NEW DELHI:
Prisoners
in
Tihar Central Jail
don't have access to certain items. At least that's what you think. But the
3rd Battalion
of
Delhi Armed Police
, tasked with escorting under-trial prisoners and convicts to and from the prison, has a different story. Sharing data about items
confiscated
from the inmates in 2018, the officials revealed how they recovered banned articles, including cash,
blades
,
knives
,
mobile phones
, even
narcotic substances
.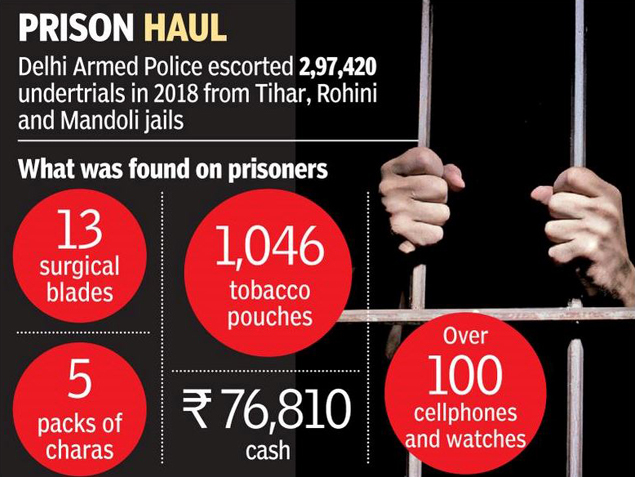 The 3rd Battalion cops accompany the prisoners to courts in and outside Delhi and back and to hospitals. They usually take custody of the prisoners a night before the day they are to leave the jail and conduct a round of checking at that time, followed by frisking when leaving the complex. The 2018 data showed that the 3rd Battalion escorted 2,97,420 prisoners of various categories for production before courts, while accompanying 655 under-trial prisoners to their custody and parole hearings.
Delhi Armed Police disclosed on Saturday that its personnel had recovered Rs 76,810 in cash from prisoners during security checks conducted before and after their trip from the jail. They also discovered around 100 mobile phones and watches hidden in body cavities and clothing. The teams also recovered more than 1,000 pouches of tobacco products and sharpened metal strips that could be used as weapons to attack other inmates or jail officials.
 In 2017, the cops had recovered Rs 61,510 cash and one metal strip, along with 700 pouches of tobacco products. Sources attributed the rise in seizures mainly to the increase in the number of prisoners. While the cops earlier escorted around 1,500 prisoners a day, the average went up to 1,900 in 2018, with some days seeing as many as 2,300 prisoners on the move.
 "There is a shortage of manpower and relatives of prisoners take advantage of the crowded court corridors to smuggle in contraband to them," a third battalion cop shared. Other cops disclosed that prisoners often clandestinely bring back surgical blades and other implements from hospitals when they are taken for medical check-ups or for specific treatments.
In May last year, an inquiry was launched when a cache of cell phones, perfume bottles, imported chocolates and 73 packets of ready-to-eat food items were recovered from an SUV parked inside Tihar Jail's compound. Over all, in 2018, more than 200 mobile phones were recovered from the three jail complexes, according to the official Delhi Armed Police data.